Keep reading for skincare secrets he'll actually like, as well as practical skincare routines for guys over 40.
I still remember the first time I saw his hairy chest. We'd been dating long enough to reveal our swimsuit-clad bodies, but I approached his family pool with a cover-up my mother would have proudly chosen. My stomach growled from 48 hours of consuming mostly water and, well, water- in an effort to flatten my tummy for the big unveiling.
But the minute my flip-flopped feet rounded the corner and I saw him proudly sunning himself in his red and white striped trunks with James Bond confidence, I knew there was no going back. This guy was hot and I was done for.
You are vitally important in your husband's health, and that includes being up to date on skincare for men. If your man is anything like mine, he'd sooner walk on hot coals (and maybe even think that was cool) than be seen in the skincare aisle at Wal-Mart.
Skincare Secrets
Keep reading for skincare products he'll actually like, as well as practical ideas to change his skincare routine, and get him to love you for it.
After 25 years of marriage to my hunky guy, I've come to appreciate the great grooming habits he incorporates into his daily routine. He's a man's man in every sense of the word, but that doesn't mean he's let himself go. When I walk into a room with other guys around our age, I notice that's not always the norm.
Though he takes pride in his appearance, my husband, like most men, would rather go crafts shopping than add a step to his daily skincare routine-even if that extra step will add years to his life. Because you are vital to your husband's health, here's some information to help you up your game in encouraging him to look after his skin.
For tips on Men's Style Over 40, click on this post.
Protection
Melanoma, the deadliest form of skin cancer, is on the rise. Death from melanoma is expected to increase by 22 percent in 2019, with men succumbing at twice the rate of women.
Scary statistics on skin cancer abound:
70-80% of melanomas arise on apparently healthy skin.
Risk for melanoma doubles with 5 or more sunburns.
The majority of people who develop melanoma are white men over age 55.
If your guy spent his youth tanning on the roof of a frat house, sitting in a lifeguard stand, or cooking his hide doing construction work, he's most likely already done some damage and may be starting to notice the effects. Most guys over 40 know they should be wearing sunscreen to prevent further skin damage, but getting them to take this extra step is another story altogether.
You Need to Know
Studies show that women are vital in their husband's skin cancer awareness for two reasons:
Women encourage their male partners to have their skin checked during routine doctor visits.
Women examine and notice changes in their partner's skin.
Since the most common areas for melanoma are the back and neck, locations most men will never examine, we are vital to our husband's health. Encourage your guy to ask for a skin check at his next appointment and look for subtle changes in high-risk areas. These simple actions can catch a danger spot at the early stages, before it becomes hard to address.
A recent melanoma spotting method called "The Ugly Duckling" is making recognition much easier. To use this method, simply compare the concerning area with the skin around it. If the mark stands out as different from other spots or moles, follow up quickly with your healthcare team.
We suggest thinking of the ugly duckling as the lesion that at a given moment in time looks or feels diffrent than the patient's other moles, or that over time, changes differently than the patient's other moles.

Alon Scope, MD, Cutaneous Oncology Fellow, The Ugly Duckling Sign,
Skin Cancer Foundation
Products for Guys Over 40
Guys have traditionally been the forgotten orphans of the skincare industry, but they are starting to get some love. Many new products target the male demographic with muskier scents and items specially designed for their needs.
If you're in the dark about how guys grooming is different, here are some categories to consider as you brave the men's skincare aisle.
Secrets of Dry Skin
Fundamental differences in the thickness, collagen, hair follicles and sebum of men's skin means what works for us won't usually work for them. In addition, men's skin takes more of a beating. The average male shaves part or all of his face regularly, is exposed to the elements longer and has a higher risk of developing acne.
Men generally prefer fragrance-free, all-in-one products that are easy to use.

Dr. Brian Zelickson, Board Certified Plastic Surgeon
Here's a helpful list of brands he'll like across the price spectrum, formulated and packaged with guys in mind.
Facial Hair
Men's facial hair can be course and unruly and deserves special consideration. My son recently introduced me to a whole line of fun beard balms and mustache products, marketed just for men. These soaps and stylers make facial hair smoother and more cooperative. Your guy might appreciate one as a gift and get hooked.
Encourage him to update his shaving routine with a sharp razor that contains moisture or a good electric head.
Eyebrows are their own conversation, am I right? Here's a great tutorial on correct technique for plucking and grooming eyebrows, yes plural. Let's start by agreeing there should be two separate brows and progress from there.
Dandruff
Even guys who have never had dandruff can develop a dryer scalp as they age. If you're bold enough to point out snowy shoulders, make sure you have a solution in hand. Head and Shoulders is still the go-to brand, but talk to your dermatologist if he needs something stronger.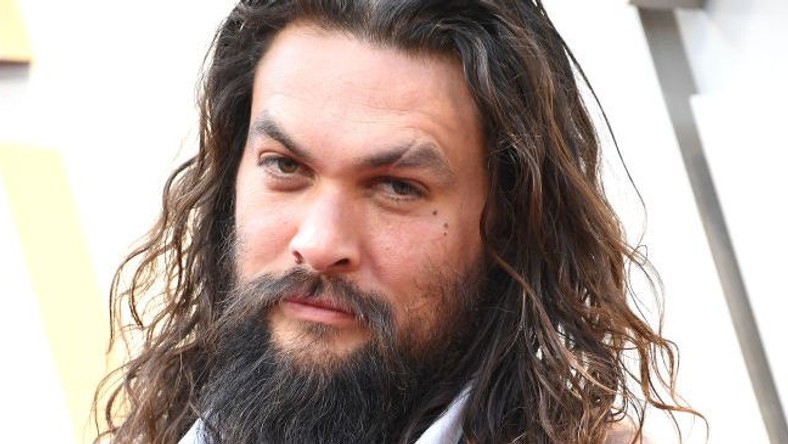 Street cred goes a long way when you're advocating for better skin care- so ladies, I'm throwing you a bone. Check out this story on actor Jason Momoa's (AquaMan) famous facial scar. I dare you to cleverly throw it in your conversation about upping his skincare game!
Studies back up what we've known for a long time: women are vital to their husband's health. But the approach we use in communicating our concern can either win his trust or make him run the opposite direction.
Take stock of your past attempts to get him to change. If you've been a bit of a nag, acknowledge it and apologize. Recognize him as an adult who gets to ultimately decide how he cares for his body. Present some of the information in this post or find your own statistics to share with him. Offer to start a self-care program together and share the love.
Most guys don't like the snarky trickiness. It's like sending the folded note down the row in class with a yes or no to circle-do you like me?

My Husband 🙂
Most importantly, don't forget to acknowledge his grooming efforts. Please resist the urge to say the words, "It's about time", and instead, make your comments as smooth and appealing as his close shave.